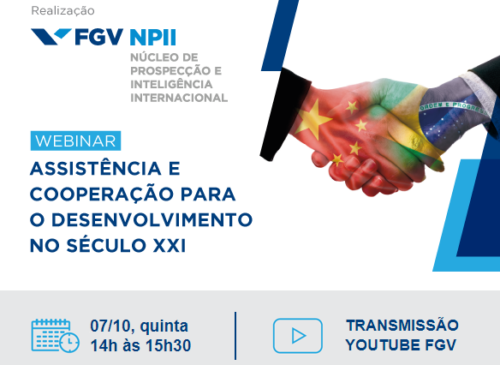 Expected Date
07
October
2021
Assistance and Cooperation for Development in the 21st Century
Event Nr.:
Place:
Typology: Webinar
Duration: 1h30
Host country: BRAZIL
Timing: 2 pm (GMT-3)
Description:
During this event, our colleagues from FGV IIU, responsible for coordinating the Jean Monnet project, will discuss challenges and opportunities in large-scale international cooperation. Although not limited to the transatlantic relationships that are the protagonists of the JMAN2, this event presents analysis with other countries (notably China), which serve as a complement to a holistic understanding of the atlantic environment by diving in other regions of the world that directly interfere with it.
On the occasion, the moderator Leonardo Paz Neves (Analyst from FGV IIU) will also announce the launch of his latest book: "Assistência e Cooperação Internacional para o Desenvolvimento: uma análise dos modelos de Brasil e China".
Together with him will be two discussants: Adriana Erthal Abdenur (Executive Director of Plataforma Cipó) and André de Mello e Souza (Researcher at IPEA).
The event will be held in portuguese.
Date: 7th October, 2 pm BRT
International Intelligence Unit – FGV IIU
Av. Treze de Maio, 23 / Office 1115 – Centro, 20031-007. 
Rio de Janeiro, RJ – Brazil
Phone: +55 (21) 3799-6224
http://iiu.fgv.br/