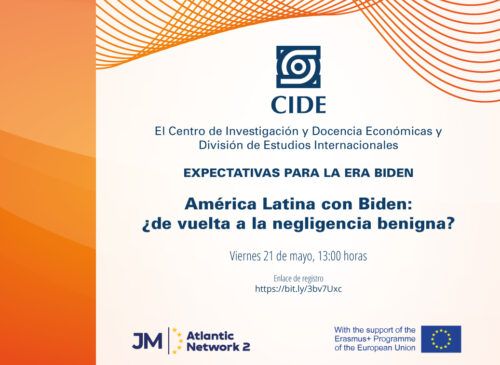 Expected Date
21
May
2021
Latin America with Biden: Back to Benign Neglect?
Event Nr.: 5
Place: Zoom platform
Typology: WEBINAR
Duration: 1 day
Host country: MEXICO
Timing: 1:00 pm (GMT-6)
Description:
International Studies Division, Centro de Investigación y Docencia Económicas (CIDE) invites you to
EXPECTATIONS FOR THE BIDEN ERA
This is a series of six one-hour webinars intended to explore different sides of the new scenario after Joe R. Biden's arrival to the U.S. Presidency, from various regional perspectives, as well as a general –international– point of view. We aim to have a conversation aimed at a general public and not a purely academic dialogue. Given that the objective is that of sharing ideas, we will follow an agile format with short interventions and a substantive space for answering questions from the audience. The events will be held in Spanish.
Latin America with Biden: Back to Benign Neglect? (Friday, May 21st, 13:00 h)
How to handle the relation with the United State is a constant worry for Latin American foreign policies. Once the Biden Presidency has started, what can be expected of Washington's approach to the region? Will it be some sort of return to a known routine, with the usual agendas, with the added issue of the pandemic's consequences if at all, or will a new tone and substance be proposed? Will Latin America be a resource or a burden, a subject or an object for Biden's United States?
International Intelligence Unit – FGV IIU
Av. Treze de Maio, 23 / Office 1115 – Centro, 20031-007. 
Rio de Janeiro, RJ – Brazil
Phone: +55 (21) 3799-6224
http://iiu.fgv.br/