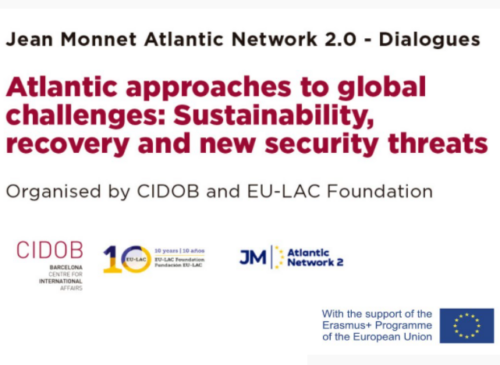 Expected Date
28 and 29
June
2021
Atlantic approaches to global challenges: Sustainability, recovery and new security threats
Event Nr.: 2
Place: CIDOB's YouTube Channel
Typology: webinar
Duration: 2 Days
Host country: SPAIN
Timing: 16:00 (CE Summer Time)
Description:
The second webinar promoted by the Jean Monnet Atlantic Network 2 will be hosted by CIDOB in partnership with the EU-LAC Foundation.
Once more, we will discuss about the key topics in the Atlantic Basin under the perspective of economy, security and inequality.
DAY ONE | 28 June
Panel 1 |  JMN-EU-LAC Panel: Multilateralism 2.0: How 21st century multilateralism should look like?
Panel 2 | Regional visions in the fight against climate change: The path to COP26
DAY TWO | 29 June
Panel 3 | Is the 2021 NATO Summit the turning point for the revitalization of the Transatlantic Security Agenda with a global vision?
Panel 4 | Transborder Economic Flows from an Atlantic Perspective: Post Covid-19 Economic Recovery: is there a sustainable alternative?
Presentation:
Presentation_Lorena Ruano – JMAN2
See the agenda and the participants on the buttons below.
The event was broadcast live on CIDOB's YouTube channel and held in english.
International Intelligence Unit – FGV IIU
Av. Treze de Maio, 23 / Office 1115 – Centro, 20031-007. 
Rio de Janeiro, RJ – Brazil
Phone: +55 (21) 3799-6224
http://iiu.fgv.br/