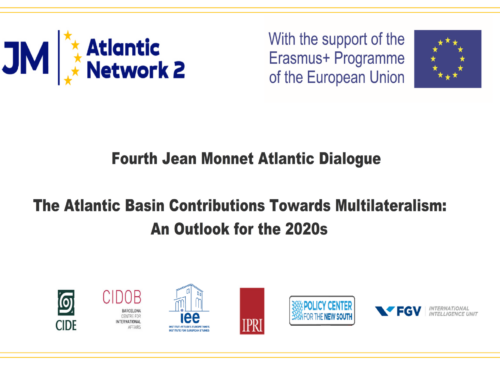 Expected Date
30 and 31
May
2022
The Atlantic Basin Contributions Towards Multilateralism: An Outlook for the 2020s
Event Nr.:
Place: Brussels
Typology: Hybrid (on site and online)
Duration: 2 days
Host country: BELGIUM
Timing: All afternoon
Description:
Fourth Jean Monnet Atlantic Dialogue
Hybrid Online Seminar
The Atlantic Basin Contributions Towards Multilateralism:
An Outlook for the 2020s
Date: 30-31 May 2022
Venue: Institut d'Études Européennes, Avenue F. Roosevelt 39, Brussels
Purpose:
To promote a high-level debate on the potential contributions from the Atlantic Basin countries to the strengthening of multilateralism. The seminar  focused on their role in improving global governance in the next decade. It builds on three webinars held during 2021 by the Jean Monnet Atlantic Network 2, and it tried to explore possible solutions, paths and recommendations for policy makers, to foster sustainable and inclusive, multilateral practices.
Some pictures of the event and its participants (speakers) can be seen on the "Speakers" button below. 
International Intelligence Unit – FGV IIU
Av. Treze de Maio, 23 / Office 1115 – Centro, 20031-007. 
Rio de Janeiro, RJ – Brazil
Phone: +55 (21) 3799-6224
http://iiu.fgv.br/