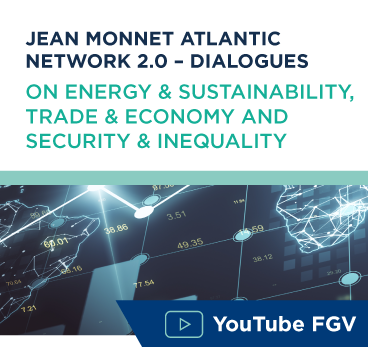 Expected Date
9 and 10
March
2021
First Webinar | Jean Monnet Atlantic Network 2.0 – Dialogues: on Energy & Sustainability, Trade & Economy and Security & Inequality
Event Nr.: 1
Place: FGV YouTube Channel
Typology: Webinar
Duration: 2 days
Host country: BRAZIL
Timing: 10:00 to 13:40 (GMT-3)
Description:
The first webinar, Jean Monnet Atlantic Network 2.0 – Dialogues, was convened by The International Intelligence Unit of the Getulio Vargas Foundation.
The event kicked-off debates around key topics in the Atlantic Basin. Energy & Sustainability, Trade & Economy and Security & Inequality were discussed in a broad perspective, which explored the possible roles of different players in the region; their difficulties and opportunities.
The webinar had policy as its main focus, in this vein, current issues akin to each themes, such as the covid-19 pandemic, the geopolitical tensions engendered in matters of trade and technology, and the news in the green energy market.
The key point of this first open event remains to foment and maintain a lively debate that gathers distinct perceptions of each institution, which will feed and enrich the Final Reports of the project represented by the Network.
The webinar was divided into three panels, each one with its own link that was broadcast live on the FGV YouTube channel:
Webinar | Panel 1 | Trade and Economic Co-operation in Times of US-China Tech War and Covid-19
Webinar | Panel 2 | A Transatlantic Vision of the Green Agenda for Post-Pandemic Recovery  
*Notes from coordinator on Energy and Sustainability
Webinar | Panel 3 | Security and Inequality: Covid-19 and its Multilayer Impacts on the Society 
Presentations:
"EU-China: The Comprehensive Agreement on Investments (CAI) signed on December 30th, 2020: Bilateralism as a leverage for a new multilateralism" by Mario Telò – JMAN2 Dialogues – Panel 1
"Public perception and attitudes on migrants in the time of COVID-19: Mexican case" by Elena Montijano & Gerardo Maldonado – JMAN2 Dialogues – Panel 3
"Post pandemic recovery, an opportunity to address urban inequalities in the Atlantic region" by Eva Garcia Chueca – JMAN2 Dialogues – Panel 3